Grandfather sought after boy, 3, goes missing from home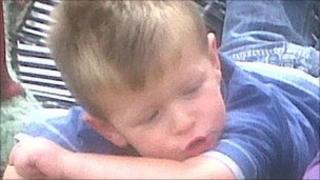 A police search is under way for a three-year-old boy who has gone missing from his home in Hailsham, East Sussex.
Jack Howlett was reported missing by his mother at 0845 BST on Friday and was last seen when she put him to bed at about 2300 BST on Thursday.
It is believed he could be with his grandfather Stephen Howlett, 52, from Hailsham, who has not been in contact.
Mr Howlett is known to drive a black Vauxhall Vectra 5-door saloon, registration VN51 ENH.
Jack is described as white, with short flat blond hair that is sometimes spiked.
He is tall for his age at 3ft, of a skinny to medium build and has bright blue eyes.
Police said he was shy around strangers and liked to hold bunches of keys.
He was last seen wearing his pyjamas.
Mr Howlett is described as white, 5ft 11in tall, of a skinny build, with ginger-greying hair thinning on top and a bird tattoo on his right upper arm.
Ch Insp Julia Pope said detectives had made extensive inquiries to try to find Jack.
"We believe Jack may be with his grandfather Stephen and therefore not in immediate danger.
"However, we are now becoming increasingly concerned for his welfare as Stephen has not been in contact," she said.
Anyone who thinks they may have seen the pair, or Mr Howlett's car, is asked to report it straight away by calling 999.