Sea defence work starts at West Beach in Selsey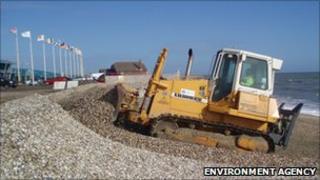 Work has started on improving flood defences at West Beach in Selsey.
The Environment Agency said the work includes strengthening the sea walls, adding shingle to the beach and repairing the timber groynes.
The agency said up to four lorries an hour will deliver a total of 33,700 tonnes (25,650 cubic metres) of shingle during a 13-week period.
John Napper, the vice chairman of West Beach Selsey Residents Group, said he supported the project.
He said: "We fully appreciate that a project of this size, with the substantial increase in lorry movements during the day will be of concern to all villages affected.
'At great risk'
"But without this essential maintenance of the existing coastal defences and beach replenishment, it is inevitable that sections of the seawall will fail."
The agency said the work would protect the coastline from flooding for up to ten years.
A spokesman said: "Without these works, the homes will remain at great risk."
The lorries will travel along the A286 Stockbridge Road past Donnington, then via the B2145 to the end of Hillfield Road, Selsey.
Returning empty lorries will only use the B2145 via Hunston