CCTV appeal over £32,000 nail gun raid at Crawley firm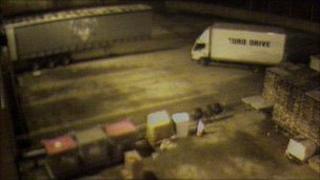 CCTV has been released in a hunt for burglars who stole nail guns worth £32,000 from a construction equipment firm in West Sussex.
Sussex Police said a stolen lorry had been driven into the back yard of ITW Construction Products in Crawley in the early hours of last Sunday.
Four men loaded the stolen goods on to the 7.5-tonne Mitsubishi Canter Truck and then drove away.
A reward of £1,000 has been offered by the company for information.
CCTV showed the truck being reversed into the yard before two men got out of the lorry. Another two men appeared from the side of the vehicle.
The offenders opened the chain metal fence and moved a concrete pole to get into the site in Fleming Way.
Officers said the lorry, which had the words "Turo Drive" on the sides, had been reported as stolen by Thames Valley Police.
Anyone with information is urged to contact the Sussex Police.