Hove store knifepoint raid appeal prompts calls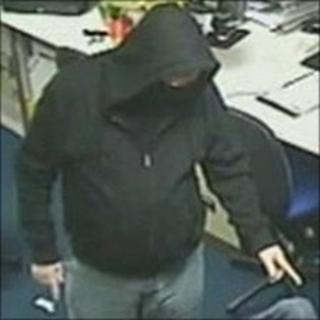 Detectives investigating a knifepoint robbery in Hove received more than 20 phone calls following an appeal on the BBC's Crimewatch programme.
A masked thief stole £20,000 from the safe of the Co-Op in Church Road, Hove, after threatening the manager with a knife and tying him to a chair.
The Co-Op has offered a £5,000 reward for the culprit's arrest and conviction.
CCTV footage of the raid was shown on Crimewatch on Wednesday.
Det Con Robin Aspin, of Sussex Police, said: "We have been really pleased with the information we've received as a result of the appeal and now have some significant lines of inquiry to follow up."
During the raid, which happened at about 0500 BST on 24 September 2010, the masked thief threatened to use the knife on the manager while shredding toilet rolls with the blade.
The store manager was discovered tied up by colleagues later.
The offender was described as white, 6ft tall, overweight, with brown eyebrows and brown eyes and had a northern accent.
He was wearing a grey frayed jeans, a black top and had glasses with no lenses.