Vehicles damaged in arson attacks in Littlehampton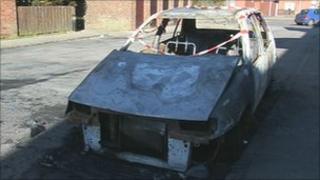 Four cars were set alight during a spate of arson attacks within an hour of each other in a West Sussex town.
West Sussex Fire and Rescue Service (WSFRS) were called to Stanley Road in Littlehampton after a vehicle had its window smashed and fuel thrown inside.
Three similar attacks took place in nearby Clun Road, Greenfields and Highfield in the early hours of Monday.
A spokeswoman for WSFRS said: "They are suspected arson. There is a very strong possibility that they are all linked."
A garage and another car were also damaged by the flames from the vehicle set alight in Stanley Road.
Sussex Police have appealed for any witnesses to the incidents to contact officers.