Hove gun threat men could be anywhere, police say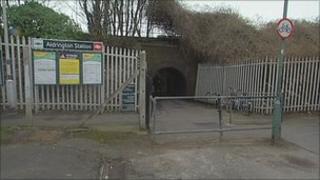 Police are still searching for a gang armed with a machete and a gun after an officer was threatened in Hove.
However, they have said the gang could now be anywhere after they ran away when they were spotted in the subway of Aldrington railway station on Thursday.
Armed police and a helicopter searched the area for several hours in a chase which began just before midday.
Ch Supt Graham Bartlett said: "We haven't any idea where they are at the moment."
He said they had received lots of calls from the public, and the investigation was continuing, but added: "The direction that they went in was the last that we saw of them," he said.
"We're very concerned, and we need to catch these people quickly."
Officer flagged down
Ch Supt Bartlett said officers were thankful that no members of the public had been threatened.
During the course of the police search, two nearby secondary schools - Blatchington Mill and Hove Park - were asked to keep pupils inside as a precaution.
The students were allowed to leave school at the normal time, once lessons had finished for the day.
The incident began at about 1145 GMT, when an officer in a patrol car was flagged down by a motorist who said he had seen a man with a machete in a subway at Aldrington railway station.
When he went to investigate he found three men - one threatened him with a handgun, while another was holding a machete.
After the three fled, the officer chased them through the subway into Old Shoreham Road from where they could have taken three routes. It is not known if they escaped by car.
All three men were described as black, with two wearing dark hooded tops and tracksuit bottoms.
Police said the man with the gun was aged about 25, clean-shaven, with distinctive corn-row braided hair.
Ch Supt Bartlett warned members of the public not to approach the men.