£5,000 reward offered over Worthing robbery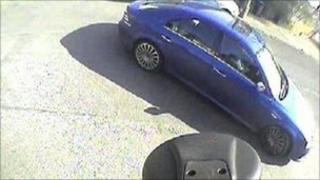 A £5,000 reward has been offered for information leading to the arrest and conviction of two men who robbed a security van driver in West Sussex.
They threatened the man before stealing a cash box, outside Sainsbury's in Downland Business Park, Worthing, at about midday on Tuesday.
They drove off in a Ford Mondeo which was followed by a Subaru Impreza. The Mondeo was later found set alight.
The reward money has been offered by the security guard's employer, Loomis.
Sussex Police said the security van driver suffered severe bruising, while another security guard attempted to intervene, but was uninjured.
Sledge hammer
One of the suspects was described as white, aged 30 to 40 years old, about 6ft tall, of stocky build with a round face.
He had stubble which was light or grey flecked in colour, and a local or London accent.
He was wearing a black baseball cap and black shell-suit type jacket, dark blue trousers and trainers, which were dark with white colouring.
The other man was slightly younger and slimmer.
He was also described as white, between 5ft 7in and 5ft 9in tall, and was wearing a black woolly hat dark jacket with dark, possibly olive green trousers and dark trainers.
Purple dye
The blue Mondeo, which was stolen in Brighton, was set on fire just before the junction of Northbrook Road and Leighton Avenue.
Two men were then seen to run to the waiting black Subaru, which had been stolen in Lingfield, Surrey.
It was found at about 1445 GMT in a small "permit holders only" car park in Caxton Court, Langton Road.
Prior to the discovery of the vehicle, two men were seen in Ivy Arch Road by the subway of the Broadwater Bridge breaking into the cash box with possibly an axe or a sledge hammer, which was then abandoned.
Police said the stolen money was likely to have been stained with purple dye which could still be on the suspects hands and clothes.