Work on Horsham war memorial to add names under way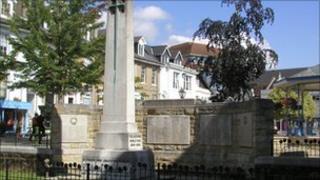 Work is under way to build two new matching stone wings to add to a war memorial in West Sussex.
They will hold hand carved stone plaques giving details of servicemen killed in World War I which were not previously listed at the Horsham site.
The missing names of 55 people came to light after research by a historian.
The war memorial, in the Carfax, will be re-dedicated with the added names on 31 August. Further names from World War II will be added at a later date.
The £42,000 project has been funded by the Horsham War Memorial Trust Fund.