Tyre charges dropped against Uckfield crash Pc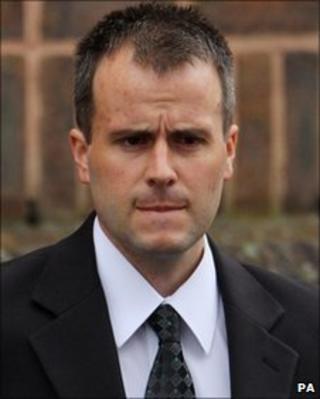 Charges against an off-duty Sussex policeman accused of driving a sports car with defective tyres in a fatal collision have been dropped.
Pc Stewart Chalmers was found not guilty last July of causing the death of 20-year-old Luke Bland by careless driving on the A26 in Uckfield.
He appeared before Fareham magistrates on Monday charged with two offences of driving with defective tyres.
The Crown Prosecution Service (CPS) said it was discontinuing the case.
Pc Chalmers lost control of his Lotus Exige on an icy stretch of the A26 on 14 February 2009 on his way home to Uckfield following a shift at the road policing unit at Hove.
Mr Bland, also from Uckfield, died when he was struck by the sports car and thrown into the air.
Sussex Police said it submitted evidence about Pc Chalmers' tyres to the CPS as it would with any other motorist.
The charges of driving with defective tyres and causing death by careless driving were prosecuted separately because the tyres were not a factor in the crash.
"Today's events conclude the criminal investigation into the tragic incident which resulted in the death of Luke Bland," said Supt Tony Blaker.
"We recognise that this has been a lengthy and traumatic experience for his family and friends and would again like to express our sincerest condolences to them."