Friston couple's bodies found after car abandoned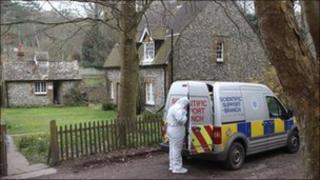 A 64-year-old woman has been found dead in the bedroom of a house in East Sussex following the discovery of a man's body at Beachy Head.
Sussex Police said officers found the body at the house near Friston village after being alerted to a car found abandoned in Crowlink Lane on Monday.
Coastguards found the body of the 64-year-old man at the bottom of cliffs within two miles of the house.
Police are investigating the deaths of the couple as a murder and suicide.
Both lived at the house in Friston.
'Tragic events'
Det Insp Carwyn Hughes said police were not looking for anyone else in connection with the deaths.
The cause of the woman's death has not yet been established, but the East Sussex coroner has been informed.
"This appears to be a tragic series of events," said Mr Hughes. "Our sympathies go to members of the family."
Police also found a pile of clothes following a search of the area near the car.
"This is a very sad event and members of my local neighbourhood team will be on hand in the Friston area over the coming days if any members of the public would like to pass on information or discuss local issues with them," said Chief Insp Dick Coates.