CCTV of Worthing robbery suspect released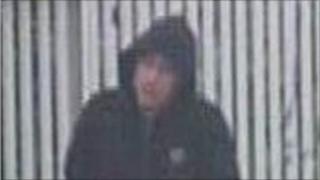 A CCTV image of a man suspected of robbing a security van driver in West Sussex has been released by police.
The robbery happened outside Sainsbury's in Downland Business Park, Worthing, at about noon on 8 March.
Sussex Police said the man captured on CCTV used dyed bank notes in the self-service ticket machines at West Worthing and Goring railway stations.
A £5,000 reward has been offered by the security guard's employer, Loomis, for information leading to a conviction.
Sussex Police said the security van driver suffered severe bruising during the robbery.
The robbers drove off in a Ford Mondeo which was followed by a Subaru Impreza. The Mondeo was later found set alight.
Police said the stolen money was likely to have been stained with purple dye which could still be on the suspect's hands and clothes.