Lottery team visits burnt-out Hastings Pier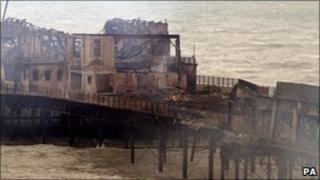 People in Hastings have been urged to back a campaign to rebuild the town's burnt-out pier as lottery officials visit the structure.
The Hastings Pier and White Rock Trust said members of the Heritage Lottery Fund committee were visiting the town on Wednesday.
It urged residents to display "Say Yes" posters backing an £8.5m bid to rebuild the structure as a "People's Pier".
Earlier this year, a firm of architects was chosen for the potential rebuild.
Hastings Borough Council and The Hastings Pier and White Rock Trust said dRMM Architects would explore options for the site's future.
The blaze, in the early hours of 5 October, took four days to put out and destroyed 95% of the upper part of the East Sussex pier.
Last month two men, both aged 19 and from St Leonards, who were arrested on suspicion of arson had their bail extended until 4 April.