Sussex crash death family 'had no support'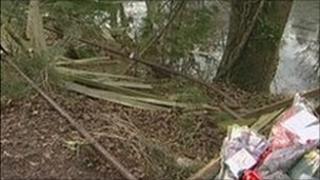 A couple whose son was killed in a road accident in Sussex say they have had no formal support in the two years since.
Luke Bland, 20, was hit on the A26 near Uckfield in 2009 by a car driven by off-duty Pc Stewart Chalmers, who was later cleared of causing his death.
Separate motoring charges were dropped this week. Police say they conducted a fair and proper investigation.
But Luke's parents, Sally and Peter, say they have received no support or compensation, and had to cope alone.
Luke, of Lime Close, Uckfield, who played in a Scout band, died at the scene after being hit by a Lotus being driven by Pc Chalmers, who was on his way home after a shift at the road policing unit in Hove.
Pc Chalmers was cleared by a jury of causing death by careless driving.
He was charged separately with the tyre offence, but the court asked the CPS to drop the case after a key prosecution witness was unable to attend the hearing.
Mr and Mrs Bland were unhappy with their initial treatment by Sussex police and that the subsequent investigation was carried out internally rather than by an outside force.
They say they have been struggling to get back to normality with no financial or practical support.
Mr Bland said: "You live day to day. It is an impossible task because you just never forget Luke... Every day you bump into someone and they say 'I'm sorry', and this is two years on."
His wife said the couple were shocked at the lack of support.
"The system is quite clear that there is no financial support for the family, and it is in fact the best result for an insurance point of view that the pedestrian is over 18 and dies immediately because, to them, there is no cost."
Mrs Bland said they had also lost faith in the justice system.
Specialist accident claims solicitor Joanna Bailey said there was a statutory payment to bereaved parents of a victim under 18 of £11,800. But there is no automatic payment if the person is over 18.
"They are not looking for compensation," she said. "What they are looking for is a recognition payment; some sort of idea that something that shouldn't have happened has happened."
Supt Tony Blakers, of Sussex Police, said: "We are satisfied that we did a thorough and fair investigation, presented all the evidence to the court.
"And although we recognise that the family may have felt that an outside force investigating would have given them greater confidence, we believe that we did a fair and proper job."