Sussex freediving champion hopes to take on the world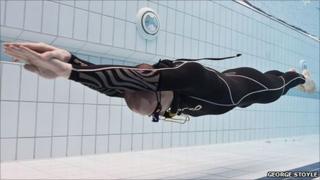 A geography teacher from East Sussex hopes to go to the freediving world championships after breaking a British record.
Dave King, who works at St Bede's Senior School, in Upper Dicker, took part in a national competition at Liverpool Aquatics Centre.
He broke his own British record for swimming underwater with fins using only one breath, reaching 226m (741ft).
Mr King, 36, now hopes to compete in the world championships in Greece.
'Real buzz'
The geography teacher explained how he breaks the distance down in his mind during a swim.
"You start off calm and relaxed, but by about half-way it becomes difficult and hard.
"You have mental battles with yourself - there's no panic but you have the urge to breathe from about half-way through, so it's about suppressing that urge."
During the competition, the largest of its kind in Britain, Mr King won the static breath hold competition. He floated face down in the water, reaching nearly six minutes in one breath.
And he broke his previous distance record using fins, which stood at 217m (712ft).
Mr King hopes to be selected to compete in September's World Individual Depth Championships in Kalamata, Greece, where he aims to break the British record of 91m (299ft).
"If you do freediving for competitive reasons obviously you just want to get bigger numbers," he said.
"But there's a real buzz over the feeling of sinking in water - it's very difficult to describe.
"Unless you do it I don't think you can understand why so many people love freediving."