Ticehurst church's hosts King James Bible reading relay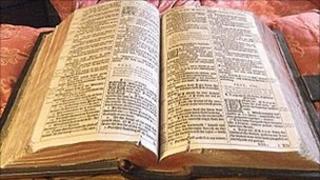 A Sussex church is hosting a complete reading of the King James Bible to mark the 400th anniversary of the book.
The series of readings by members of St Mary's Church in Ticehurst will be started by James Sellick on 21 March.
The final verses of the Book of Revelation will be read during the evensong service on Sunday 27 March.
Peggy Langdown from St Mary's said: "The King James version marked a huge change in how people worshiped because it brought the Bible to the masses."
Readers have the option of being sponsored and any money raised will go to St Mary's and to the Bible Society which translates and publishes the Bible into many different languages.
'Big picture'
The Archbishop of Canterbury Dr Rowan Williams said the edition still had the power to surprise and shock its readers, and provided a context for their lives.
"This year's anniversary is a chance to stop and think about the big picture - and to celebrate the astonishing contribution made by that book 400 years ago."
A new translation of the Bible was proposed at the General Assembly of the Church of Scotland at Burntisland in Fife, attended by King James VI, in 1601.
The translation was commissioned following the Hampton Court Conference in 1604 - by which time James had become James I of England - and was published in 1611.
Also known as the Authorised Version, The King James Bible went on to become the dominant edition in the English-speaking world.