Fears over Bognor Regis tourist centre closure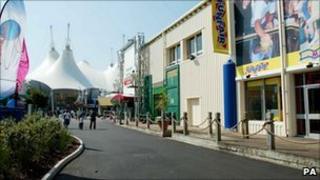 Businesses have said tourism in a West Sussex seaside town will suffer if the visitor information centre closes.
Arun District Council had been in talks to hand over the tender for the Bognor Regis centre to a local business but they broke down last month.
The council said the plan was now to close the centre at the end of June and instead invest in the tourism website.
Trevor Pulleyblank, who runs a guest house in the town, said up to 40% of his guests come through the centre.
He said: "I think it's ridiculous that they're thinking about closing it. We are a tourist town and it's slowly but surely dying.
"When I was a young child we had loads and loads of B&Bs, now they're just dotted about."
'Talks broke down'
The council said it had agreed to pay £17,000 a year to Arun Arts Limited to run tourist information centres in Bognor Regis and Arundel.
Paul Dendle, the cabinet member for finance at the Conservative-controlled council, said: "We spent over a year in negotiation and everything had been agreed.
"We're as frustrated as a lot of residents in Bognor are."
But Jim Brooks, who chairs Arun Arts, said the organisation pulled out after the council refused to invest £50,000 to carry out vital improvement works.
He said: "We regret the talks broke down but the impression may have been given it's our fault.
"If anyone is going to close the visitor information centre, which is vital for tourism and business, it's Arun District Council."