Photos of Muhammad Ali in training on show in Hastings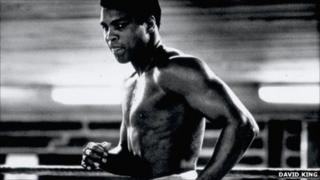 Rare photographs of Muhammad Ali training before one of boxing's most famous fights are on show in Hastings.
The exhibition at the Lucy Bell Gallery documents the boxer's preparations before the "Rumble in the Jungle".
Ali beat heavyweight champion George Foreman to regain the title in Kinshasa, Zaire, in 1974.
The photographs were taken by Sunday Times photographer David King who was given exclusive access to Ali's Pennsylvania training camp.
Mr King said he managed to get Ali's number and phoned him. To his surprise the boxer invited him to the camp to take as many photographs as he wanted.
"There he was standing in front of you, probably the most famous person in the whole world at that time," said Mr King.
"Most photographs you see of Ali are taken by photographers who are in a bank of 50 photographers.
"It was extraordinary that you could just quietly photograph him as he was shadow boxing."
The exhibition documents Ali training for the fight of his life.
He was 32 years old and it was predicted the younger champion Foreman would destroy Ali.
During the fight the older boxer stayed against the ropes for seven rounds and soaked up the punches, until knocking his opponent out in the eighth round.
"He was such an extraordinary boxer," said Mr King. "He was so fast, so amazing and of course he was quite terrifying in the ring."
The gallery's curator Lucy Bell said: "I'm very pleased to have it in the gallery. They are quite rare shots and extremely beautiful.
"Ali was one of the biggest sports stars of all time and there was something about him.
"He was such a huge character and this comes across in the photographs."
The exhibition runs until 29 April.