Golf course murder victim was 'guardian angel'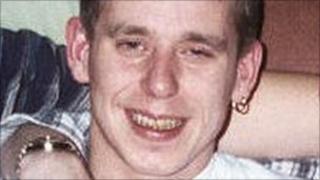 A man accused of murdering a drug user whose burnt body was found on a golf course on the outskirts of Brighton has told a court they were "like brothers".
Sean Iran, 21, said he and Stefan Welch, 36, had been close friends since they met in prison in 2008.
"I used to call him my guardian angel. He used to say that I was his brother from another mother," said Mr Iran, who denies murdering Mr Welch last year.
The body of Mr Welch was found at Dyke Golf Club, East Sussex on 4 September.
Lewes Crown Court heard the pair met when Mr Welch rescued Mr Iran from being beaten up by four men in prison.
Mr Iran said that after they were both free, in February last year, they saw each other regularly and he tried to help Mr Welch become less dependent on heroin.
Mr Welch lived as family at Mr Iran's home but he was eventually told to leave because his addiction seemed to be worse than ever.
Mr Iran told jurors that the last time he saw Mr Welch was on 3 September, when Mr Welch came to the house and asked to borrow money to pay his drug debts.
Mr Iran said he gave him £40 to pay the dealer and another £10 to buy beers.
The plan was that that he would come back later but he never saw him again.
Jurors have heard that the day before his death, Mr Welch spoke to his probation officer about his drug debts and said that he had been threatened.
It is alleged that Mr Iran, who told the court he smoked £20 to £30 worth of cannabis a day, had serious drugs debts of his own.
Mr Iran said he had nothing to do with Mr Welch's death or destroying his body. He denies a charge of conspiracy to pervert the course of justice.
His father, Babak Iran, 44, and brother Navid Iran, 23, also of St Richard's Road, Portslade, each deny a charge of perverting the course of justice
The trial continues.