Worthing band The Maxibons will perform a charity gig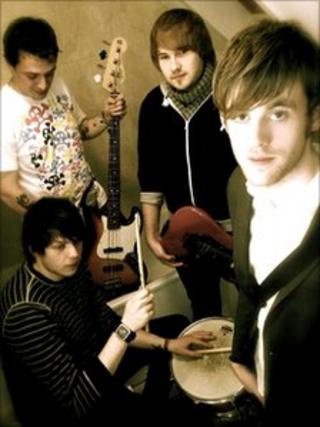 When I popped The Maxibons' "Singer at the Station" onto the BBC Introducing CD player, I knew I had to invite them in to play one of our live sessions.
The Worthing four-piece make infectious, classic Indie pop with a cheeky grin.
They are building up their reputation along the south coast by working hard to bring their music to fresh ears.
And while some bands are happier in a studio environment, onstage is definitely the Maxibons' natural home.
Live performance
"It's the crowd, the band, the lights, the music and the performance that can literally move you," lead vocalist and guitarist Kevin Short told BBC Introducing.
"Whether it's through the words, a screaming guitar solo or a beat that just makes you want to dance - nothing other than live music can truly do that, and it's what being in a band is all about."
The band are combining a busy gigging schedule over the next few months with writing a new batch of songs and a visit to the studio with the aim of releasing a new EP at the end of the summer.
As if that were not enough, they are also taking part in a charity gig on 1 April to help Jamie Colwell, a seven-year-old Worthing boy with cerebral palsy.
Charity gig
The band are helping raise £40,000 to send Jamie to America for an operation to help him walk properly.
"We jumped at the chance to play this gig," Kevin said. "Jamie is such a happy and endearing little boy who I have personally known for a number of years.
"Jamie can use a walking frame for short distances but he has to use a wheelchair the rest of the time. This is our opportunity to help raise the money that is needed."
You can help young Jamie find his feet with The Maxibons, The Killer Heelz and Mick Short at Worthing Dominion Club, Friday 1 April, 8pm-midnight, £5 entry.