Stroke victim told he had ear infection, inquest hears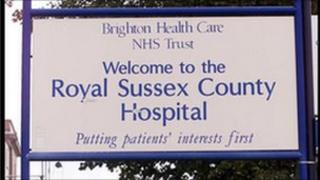 A father of two died of a stroke on Christmas Day after being wrongly diagnosed with an ear infection, an inquest has been told.
Paramedics also told Steven Collingbourne, from East Sussex, he would be "left on a trolley in a corridor" if taken to A&E.
The 43-year-old died two days later, on 25 December last year, after two more emergency calls.
The diagnosis had not been unreasonable, the inquest heard.
Mr Collingbourne's wife, Zoe, said she was "reassured" when she heard he had an ear infection. "I trusted their judgment," she added.
She told the hearing at Brighton County Court that on the morning of 23 December her husband, a self-employed plumber, had been stressed because of work.
She said he briefly fainted that morning and she later found out he had fainted a second time that afternoon.
When she returned to their Peacehaven home her husband was in bed and told her he had a headache, felt dizzy, and had been vomiting.
She dialled 999 when her husband said he could not move his legs.
Foaming at mouth
When the ambulance crew arrived just after 1700 GMT they said Mr Collingbourne had labyrinthitis, an ear inflammation, and advised him to get a prescription.
The inquest heard Mrs Collingbourne, 36, dialled 999 again overnight when her husband's condition worsened.
At 1024 GMT on Christmas Eve she called for a third time when she found him unconscious and foaming at the mouth.
He was rushed to the Royal Sussex County Hospital, in Brighton, before being transferred to Hurstwood Park Neurological Centre in Haywards Heath, West Sussex.
Sorin Bucur, the consultant neurosurgeon who treated Mr Collingbourne there, told the inquest that he died of an ischemic stroke.
He described it as a "very rare condition", but said that had Mr Collingbourne been taken to hospital after the second 999 call there may have been time to treat him.
The inquest continues.