Paramedics criticised after stroke man misdiagnosed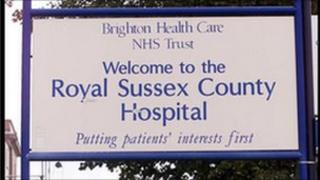 A coroner has criticised an ambulance service after the stroke death of a father-of-two who was wrongly diagnosed with an ear infection.
Paramedics also told Steven Collingbourne, from East Sussex, he would be "left on a trolley in a corridor" if taken to A&E.
The 43-year-old died two days later, on 25 December last year, after two more emergency calls.
South East Coast Ambulance (SECamb) said it would review its actions.
His condition had an 80% mortality rate even if treated, the inquest heard.
Foaming at mouth
Recording a narrative verdict at Brighton County Court, coroner Veronica Hamilton-Deeley said the paramedic's comments were "unnecessary, unkind, and very likely untrue".
She also felt there had been a "clear disinclination" to take Mr Collingbourne to hospital.
Zoe Collingbourne, 36, first dialled 999 on 23 December after her husband, a self-employed plumber, fainted twice, vomited and said he felt dizzy.
The ambulance crew arrived at the couple's Peacehaven home just after 1700 GMT and said Mr Collingbourne had labyrinthitis, an ear inflammation, advising him to get a prescription.
When Mrs Collingbourne called the ambulance out overnight her husband was again not taken to hospital because he said he would rather stay in bed.
Life support
The inquest heard that he was eventually rushed to Royal Sussex County Hospital, in Brighton, the next morning after Mrs Collingbourne found him unconscious and foaming at the mouth.
He was transferred to Hurstwood Park Neurological Centre in Haywards Heath, West Sussex, where his life support machine was turned off at 1400 GMT the following day.
Ms Hamilton-Deeley said there may still have been a "window of opportunity" after the second paramedic's visit at 0015 GMT on 24 December.
She added: "Had Mrs Collingbourne's concerns been taken more seriously it may not necessarily have changed the outcome but it may have given Steve Collingbourne a chance."
In a brief statement after the hearing, Mr Collingbourne's family said he was "a loving husband and devoted father who will be greatly missed".
SECamb said in statement that it offered its sincerest condolences to Mr Collingbourne's family.
"We have listened very carefully to the findings of the Sussex coroner and we have also carried out our own investigation," it said.
"We will now be looking at the actions we can take to further safeguard our patients in the future."