Donations given to wooden Olympic boat in Hastings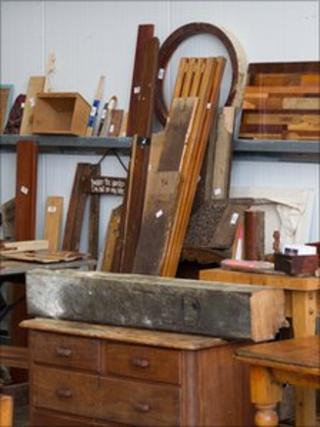 Dozens of people in Hastings have donated pieces of wood to an Olympic boat building project.
Wood from two historic Sussex piers, a Bethlehem olive tree, a walking stick and a bird house will become part of the boat as it tours the South East in 2012.
The 30ft (9m) vessel will be built in Chichester, Sussex.
It is due to be launched as part of the London 2012 Cultural Olympiad.
Catherine Baxendale, a producer for Lone Twin the company behind the project, said: "We weren't certain how it was going to go - either we would get a few pieces or lots.
"So it was a really pleasant surprise that the people took hold of the idea and came down.
"There were all sorts of people, from artists to the fishing community."
Hastings Pier
During the donation event, held in Hastings on Friday 25 March, pieces of Brighton's old West Pier and the former Hastings Pier, which burnt down in 2010, were given to the project.
The boat is being built in Chichester and will be officially launched in May 2012, before sailing along the South East coast.
The donated wood will undergo a procedure where it will be sliced, joined together and laminated, so people will be able to see the individual pieces in great detail.
Councillor Peter Chowney, of Hastings Borough Council, donated a wooden walking stick he gave to his grandmother.
"She used it continuously until she died in 1970, aged 93," he said.
"At the age of 90, she was still walking three miles into Bournemouth regularly, from where we lived.
"I think my grandmother and mother would both be pleased to know the walking stick will be used for build something lasting, to remember her by."