Sussex Partnership NHS removes belts after patients die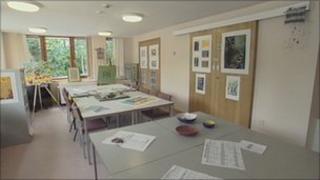 Belts are being removed from patients at a Sussex mental health trust after two patients died.
John Blair and Sgt Richard Bexhell were found hanged less then two months apart at the Woodlands Centre for Acute Care, in St Leonards in 2009.
The centre closed while investigations were carried out but later reopened.
A review recommended the trust changed how it dealt with potential ligatures. Sussex Partnership NHS is now removing belts in all acute inpatient wards.
A spokesman for the trust said: "At the time of these tragic incidents, the decision on whether to remove belts from patients admitted to our inpatient units was determined by a risk assessment for each individual. This approach is consistent across many mental health trusts.
"As a result of the two deaths on one unit, both of which involved the use of belts as ligatures, we took a trust-wide decision to remove all belts across our acute inpatient wards."
Sussex Police began an investigation after the deaths of five patients, including Mr Blair and Sgt Bexhell, at the unit.
No criminal charges were brought as a result.
An independent investigation into the centre also gave it the all-clear.
The unit has since undergone a £500,000, patient-led redesign and all 33 bedrooms and bathrooms have been refurbished.
All staff have had additional training and development, with specific attention given to risk management and suicide risk reduction.