Extra £2.6m pothole money for East Sussex 'timely'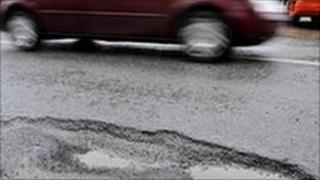 East Sussex has been given an extra £2.6m to repair more than 20,000 potholes across the county.
The money is a share of the £200m allocated by the government for local authorities in England to make repairs.
East Sussex County Council (ESCC) said the money would allow its highway team to make more permanent repairs.
The last three winters have been particularly bad for potholes, which form when water seeps into road cracks and freezes, breaking up the Tarmac.
ESCC has this year made a £1.5m reduction in its highways maintenance budget from £25m to £23.5m.
But it said it was committed to a £23m two-year resurfacing programme of the county's roads, which began in April 2010.
Councillor Matthew Lock, the cabinet member for transport and environment, said: "This funding is timely given the severe weather we experienced before Christmas."