Hastings and Bexhill residents vote for 'local heroes'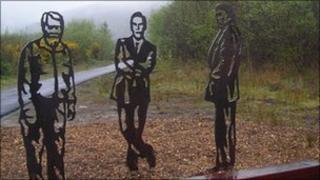 Residents in Hastings and Bexhill have begun voting on who they want immortalised in a piece of public art on a new walking and cycle route.
Spike Milligan, John Logie Baird and Alan Turing are just three of nine "local heroes" with links to the area that people can choose from.
The three most popular will feature on a bench on the route which links Galley Hill in Bexhill to Hastings promenade.
Residents are being given the chance to cast their vote until 8 April.
The artworks, which are made out of steel, are being installed across the UK in conjunction with charity Sustrans.
East Sussex County Councillor Matthew Lock said: "Everyone on the shortlist has had connections with Hastings and Bexhill and I hope that even more local people will take part in deciding the top three who will appear on the portrait bench.
"We have been working hard to design a scheme that everyone is happy with and I am very pleased that so many local people got involved in nominating these well-loved entertainers, scientists and sportsmen."