Police issue Sussex betting shop knifepoint raid CCTV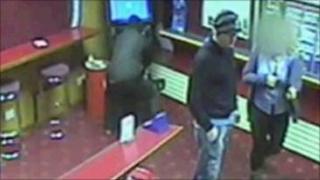 Police have released CCTV images of two men they want to trace in connection with a knifepoint robbery at a West Sussex betting shop.
Sussex Police said two men threatened a female staff member with a small knife and then stole about £180 from William Hill in Wick Parade, Littlehampton.
The suspects spent about 30 minutes playing on gaming machines beforehand.
The force said the 23-year-old woman was shaken but unhurt and appealed for witnesses to the raid on 14 February.
The man with the knife was described as being aged between 21 and 25, of mixed race, slim and about 5ft 5in tall.
He was wearing a black coat, black jeans and a beanie hat with a T-shirt.
The second man was said to be about the same age, white, of medium build and about 6ft tall.
He was wearing a blue beanie hat, thick glasses, light blue jeans and a coat.