Talks follow Arts Council cuts to Brighton festivals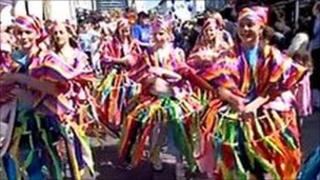 Talks are under way about the future of two festivals in Brighton after Arts Council funding cuts.
Same Sky, which runs the annual winter celebration Burning the Clocks and the May Children's Parade, will lose all its Arts Council funding after 2011-12.
Brighton council said the future of both festivals would be discussed in talks between the council and Same Sky.
A spokesman said both festivals were unique and long-standing events that attracted thousands of people.
'Difficult situation'
He said the local authority would be speaking to Same Sky to see what could be done to help and had already allocated the organisation £35,000 a year from 2010 to 2013.
But he added: "Obviously, in times of spending restrictions, for councils too, it is a very difficult situation."
Same Sky previously received about £100,000 a year from the Arts Council.
The local authority is also trying to help the Basement, an arts venue in North Laine, which had hoped for new funding but did not receive a grant.
The council said Basement showcased cutting edge work that could not be seen anywhere else in the region.
Brighton and Hove City Council said Burning the Clocks was attended by up to 40,000 people each year.
About 6,000 people and all local schools participated in the Children's Parade, which is the traditional start of the city's annual arts event, the Brighton Festival.