Royal wedding to be screened live on giant screens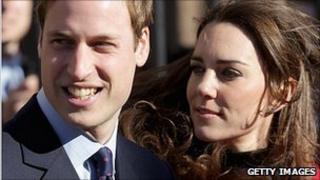 Spectators will be able to watch the royal wedding live on giant screens at two central London locations.
The screens at Hyde Park and Trafalgar Square will show TV coverage of the wedding of Prince William and Kate Middleton, on 29 April.
The couple will marry in London's Westminster Abbey.
The event is being staged by the Department of Culture, Media and Sport, London mayor Boris Johnson and the Royal Parks.
Mr Johnson said: "The royal wedding will be a truly momentous occasion and we want everyone to be able to join in the celebrations.
"This is a fantastic opportunity for London to show the world how we relish our traditions and that we know how to throw a party, as well as being an unrivalled city for culture, cuisine and business."
Tens of thousands of well-wishers are expected to flock to the capital on the big day.
Tourism Minister John Penrose said: "London is a fantastic tourist attraction in itself, but the royal wedding will make it even more so."