Crawley pigeons deterred with 'fire' gel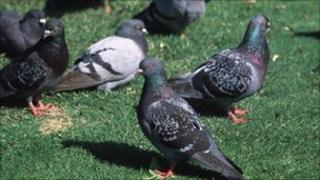 Pigeons are being tricked into thinking their favourite landing spots are on fire in a Sussex town centre.
Crawley Borough Council will trial the use of a non-toxic orange gel as a pigeon deterrent at its Exchange Road car park.
Humans see the substance as gel, but pigeons see it as fire because they can see ultraviolet light.
The local authority said the gel would be applied to several areas of the car park on Wednesday.
A spokeswoman said the repellent, called Bird Free, was developed in Korea and lasted for two years.
She said the gel had already been used in Horsham where it has seen a 100% success rate.
The sight of fire prevents the birds from landing on their favourite buildings, she added.