Spike Milligan among Sussex heroes for portrait bench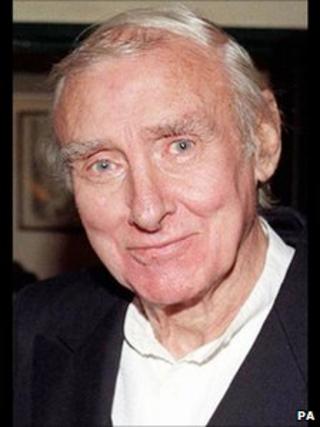 Three "local heroes" have been chosen by residents in Hastings and Bexhill to be immortalised in a piece of public art on a new walking and cycling route.
Comedian and writer Spike Milligan, sportsman Tyrone Wildman, and BMX rider Richard Ball were chosen from a final list of nine people linked to the area.
They will feature on a bench on the route which links Galley Hill in Bexhill to Hastings promenade.
Life-size steel figures of the three will be placed behind the bench.
Construction is set to start in July, with the path due to open in November.
Spike Milligan, best known for his work on the radio show The Goons in the 1950s, was stationed in Bexhill during World War II and later lived in Rye.
'Wonderful people'
He died in February 2002 at the age of 83, and is buried at St Thomas' Church cemetery in Winchelsea with the epitaph "I told you I was ill" on his headstone.
Richard Ball was a talented young BMX rider, born and based in Hastings. He died in a road accident in 2002, at the age of 24.
In 2001 he helped bring people together to work on the White Rock Skate Park, and his memory has become a symbol of the local BMX and skate community.
Tyrone Wildman, who was originally from Jamaica, was a life member and club president of Sidley Cricket Club.
He became one of the country's top natural body builders, and was also a fitness instructor at Falaise Fitness Centre, in Hastings. He died in December 2010, aged 59.
East Sussex County Councillor Matthew Lock said: "We should all be very proud of the achievements of these three wonderful people and we will be able to remember them every time we use this fantastic new path."