Greens become Brighton and Hove council's largest party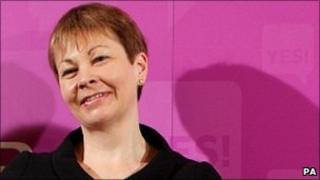 The Green Party has become the largest single force on Brighton and Hove City Council - a year after the city returned the UK's first Green MP.
The Greens gained 10 councillors but fell five short of taking overall control of the council.
The party now has 23 councillors, while the Conservatives have 18, down from 26, and Labour remains with 13 members.
Caroline Lucas, Green MP for Brighton Pavilion, said the party's gains were partly due to longevity in the city.
She said: "I don't think there's anything actually intrinsic about Brighton and Hove.
"I think it is simply that we've had a strong presence here for many years.
"We have been here for an awfully long time and built up from a small base, each time doubling our vote and getting more councillors elected.
"We've had councillors here since 1996, people have seen Green policies in action, they like what they see, and they want more."
A statement from the Green Party in Brighton said the city now had the largest Green group of councillors in the country and it was "a huge vote of confidence".
The Greens said they would now talk to other parties about implementing their manifesto pledges at what was a very challenging time for local government budgets.