Children's parade launches Brighton Festival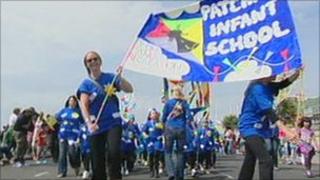 Thousands of children have paraded through the streets of Brighton to mark the start of the city's annual arts festival.
About 5,000 youngsters with banners and giant puppets made their way through the centre and along the seafront.
Burma's pro-democracy leader Aung San Suu Kyi is the festival's guest director and the organisers said events would celebrate and champion her cause.
The festival, which runs until 29 May, includes music, films and plays.
Ms Suu Kyi, who will not attend the festival, said it was wonderful to know there was so much support for the effort to bring democracy to Burma.
The Brighton Festival Fringe, which runs alongside the main event, also started on Saturday with a number of artists opening up their homes to members of the public.