Two in hospital with 'severe reaction' to caterpillars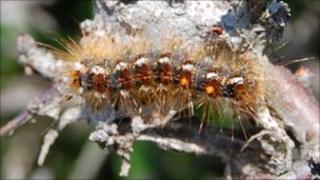 Two people have been taken to hospital in west Sussex suffering from a severe skin reaction to red-haired caterpillars.
The caterpillars, which become brown tailed moths, have been found in Nutboure, Chichester and Selsey.
They are black with white side markings and orange spots.
Karl Hitchock, pest control officer at Chichester District Council, said their hairs can cause severe irritation to the skin.
"Their bodies are covered in thousands of tiny hairs, which they will shed if they are touched or poked," he said.
"The hairs then become airborne and will cause severe irritation to the skin.
"If they are inhaled, they can cause the throat to swell."
He added that due to the warm weather, there has been a large increase in the number of caterpillars, which are usually seen in June.
"The birds don't eat this type of caterpillar and so they can multiply in numbers easily and quickly," said Mr Hitchcock.
He advised anyone who spots one of the caterpillars to stay away and call the council's pest control department.
"If anyone touches a caterpillar accidentally, go to your GP or hospital to get treatment."