Brighton search considered in Gary Hampson murder hunt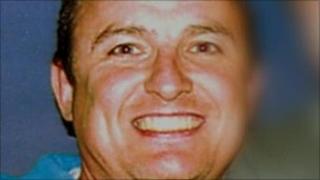 Detectives looking for a father from Brighton are consulting search advisers and may dig up areas of the city.
Sussex Police started a murder inquiry after traces of blood belonging to Gary Hampson, 42, from Portslade, were found in a garage he managed in the city.
Mr Hampson has not been seen since picking his 10-year-old daughter up from school on 6 January.
Police are questioning two men, aged 60 and 25. Mr Hampson's mobile phone has been turned off since 9 January.
The older man was arrested in Brighton on Monday on suspicion of murder and the 25-year-old, from Brighton, is being held on suspicion of harbouring an offender.
A third man, aged 57, was arrested in London and bailed until 25 May.
A fourth man, aged 48, was arrested in Brighton on suspicion of murder last month and is due to answer bail on Wednesday.
Mr Hampson apparently said he was going to Liverpool the next day.