Camilla lays wreath at Hastings cemetery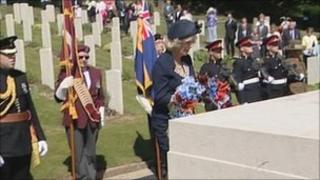 The Duchess of Cornwall has attended a commemorative service for Commonwealth servicemen in East Sussex.
The duchess, who grew up in East Sussex, became the first-ever patron of Hastings and St Leonards Veterans Association in 2010.
She laid a wreath at Hastings Cemetery and attended a reception for members of the association.
She later went on to Plumpton Agricultural College, where she is patron of the charitable foundation.
Her final engagement was at Charleston House in Firle, the country home of the early 20th Century writers and painters known as the Bloomsbury Group.
The visit was part of the celebrations to mark the 25th anniversary of the house being opened to the public.
The duchess's father, Major Bruce Shand, was vice-lord lieutenant of East Sussex and the family lived near Plumpton Racecourse.
She was baptised at a church in Firle and attended Dumbrells School in Sussex.