West Sussex protest fails to reverse adult care cuts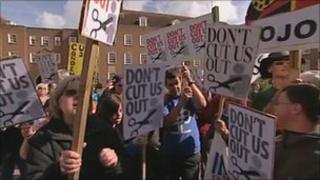 Campaigners opposed to cuts in adult services in West Sussex have failed to persuade the county council to reverse its decision.
Protesters gathered outside County Hall on Friday before the county council's annual meeting debated the cuts.
Three West Sussex bishops backed the campaign, urging county councillors to put cuts to adult social care on hold while the policy was reviewed.
Campaigner Charles Boughton-Leigh said he was disappointed at the result.
Mr Boughton-Leigh, who has two sons with Down's syndrome, told councillors the cuts targeted vulnerable people with learning and physical disabilities, as well as the elderly and infirm
The chairman of Ferring Country Centre for disabled people cited the example of a woman with learning disabilities who had been re-assessed and had her care support cut from £138 a week to £28.
She will lose her day care activities and have to stay at home alone.
Campaigners said the change affected 4,500 people in the county.
'Pause changes'
The 30-minute debate in Chichester was forced by Don't Cut Us Out campaigners, who collected a 20,000-name petition.
The cuts, which came into force on 1 April to save £6.5m over the next two years, removed social care from adults with moderate needs to focus on those with substantial or critical needs.
The Church of England bishops of Chichester and Horsham and the Catholic bishop of Arundel and Brighton said they were "standing up to be counted" a letter to councillors urging that the "rapid implementation of the changes be paused".
The council has said about £750,000 of the £6.5m savings will be reinvested in the voluntary sector and schemes such as Health and Wellbeing Hubs, which will be in place by September, providing a database for alternative community services.
It said: "All areas are having to make savings. The council has to save £79m over the next three years, and of that £31m will be from adult social services, which represents about 17% of its budget.
"Adult social services spend is 39% of the council's non-schools budget - about £195m."