Jailed burglar admits to further 152 crimes in Crawley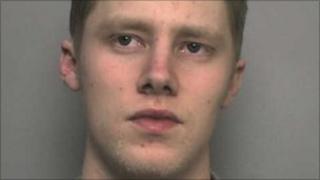 A jailed burglar who told police about a further 152 of his crimes in a West Sussex town has been sentenced to another six years.
Robin Raison, of Tinsley Lane, Crawley, took advantage of unsecured doors to steal from homes in the town.
The 21-year-old was already serving a jail term for another burglary when he admitted the extra offences.
Raison was sentenced at Hove Crown Court on three burglary charges, with another 149 to be taken into account.
Sussex Police, who visited Raison in prison, said he told them about the extra offences because he wanted to mend his ways.
Det Sgt Dennis Dennett-Thorpe added: "He said he wanted to sort his life out and that by informing of his crimes he would hopefully give the victims some closure.
"For him to admit to more than 150 burglaries is not something we hear of often. I hope that as well as giving closure to his victims, he will keep his promise to himself to turn his life around."
On 18 January, Raison was handed a 34-month prison sentence at Lewes Crown Court for the previous offence.