Aung San Suu Kyi honoured by Brighton and Hove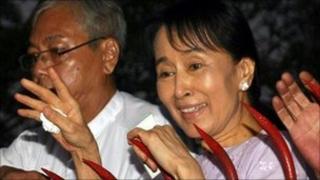 Burma's pro-democracy leader Aung San Suu Kyi is to be awarded the freedom of Brighton and Hove in East Sussex.
Brighton and Hove City Council have decided to make the Nobel Peace Prize-winner an honorary freewoman for her record on human rights.
Ms Suu Kyi is the guest director of this year's Brighton Festival, which has celebrated her cause.
The ceremonial award will go to Ms Suu Kyi and another recipient at Hove Town Hall on Thursday.
She will be unable to receive the award in person but officials hope a representative will be sent on her behalf.
The other award will be handed to local resident Flt Lt Marc Heal, an RAF Chinook pilot.
'Peaceful means'
He was awarded the Distinguished Flying Cross last year for helping to rescue 29 casualties from the battlefield in Afghanistan.
The council said it recognised Ms Suu Kyi's efforts "to support the people of Burma and the many people throughout the world striving to attain democracy, human rights and ethnic conciliation by peaceful means".
Only two other people have been awarded the freedom of Brighton and Hove: the late World War I veteran Henry Allingham and local journalist Adam Trimingham.
The Burmese military authorities released Ms Suu Kyi from house arrest on 13 November last year.
She had been detained for 15 of the previous 21 years.
Since her release, she has called for a peaceful revolution in Burma and said she hoped for a non-violent end to military rule.