Family tribute to crash-death teacher from West Sussex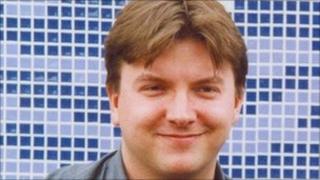 The family of a primary school teacher who died in a crash in West Sussex have paid tribute to a "gentle giant of a man with many talents".
Damon Gravatt, 36, of Pulborough, suffered fatal injuries in the crash on Bury Hill near Amberley on 4 May.
Police said his Toyota Rav 4 collided with a Ford Mondeo and an Audi.
His father, Ian Gravatt, said: "Damon was our loving, caring son." He was a keen amateur dramatist with a flair for writing children's stories, he said.
'Vast chasm'
The Southway primary school teacher was a "brilliant clarinettist", who could also play the saxophone, guitar and keyboards, his family said.
His father added: "He loved his job as a primary school teacher and would tell me that his main goal in life was to be recognised as not a good classroom teacher but as a great classroom teacher.
"Judging from the many letters he received over the years, they all bear witness to the fact that he achieved his goal.
"His passing leaves a vast chasm in our lives and we can only hope that memories of his achievements will help us through this very difficult time."
Sussex Police have appealed for witnesses to the collision.
The 49-year-old driver of the Mondeo is being treated at the Royal Sussex County Hospital in Brighton with a leg injury.