Fire at Tilgate Forest Golf Centre club house investigated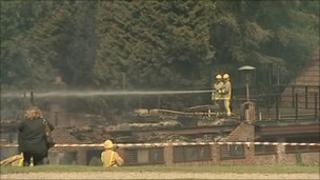 A fire that destroyed a club house at a West Sussex golf course may have been started deliberately, police have said.
West Sussex Fire and Rescue Service was alerted to the blaze, at Tilgate Forest Golf Centre in Crawley, at about 0400 BST on Sunday.
Pc Brett Holden, of Sussex Police, said the fire was being treated as suspicious.
He said officers would carry out an investigation once the building had been declared safe to enter.
A spokesman for Crawley Borough Council said the golf course and driving range had reopened on Monday but the shop remained closed.
"The bar and catering areas have been completely destroyed," he added.
Det Con Andy Wolstenholme said: "The fire completely destroyed the club house and restaurant at the golf club meaning the Crawley community has lost a popular bar.
"A small blessing is that people are still able to play golf on the course."