Worthing Wurlitzer could soon be playing its last tune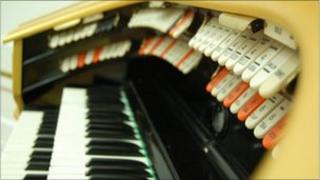 An organist has vowed to fight cost-cutting plans to remove a Wurlitzer from a West Sussex concert hall.
Jim Buckland says it would be a "terrible blow" to lose the Wurlitzer from Worthing's Assembly Hall.
Mr Buckland, chairman of Sussex Theatre Organ Trust, which maintains the organ, says it would cost £800,000 to remove it from the Stoke Abbott Road building.
Worthing Borough Council said it needed to end its contract with the trust due to the rising cost of running the hall.
Mr Buckland said the organ, which has been at the venue for about 30 years, is the largest in a European concert hall.
He estimated it would cost £600,000 to move it and £200,000 to repair damage caused to the grade II listed building.
"I can't see why they want to get rid of it," he said. "It provides an enormous amount of musical entertainment and is one of the main attractions in Worthing. It's known about all over the world."
Conservative-run Worthing Borough Council said it needed to make the changes because of rising costs associated with running the Assembly Hall and its two other arts venues.
A spokesman added: "As a non-statutory service the theatres and entertainment budget is currently under scrutiny, as indeed are all of the Council's operations."
The council has given the organ trust 12 months notice of contract termination.