Climate camp at Lewes school handed eviction notice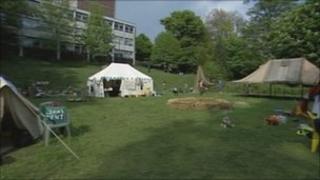 Climate activists camped in the grounds of a disused East Sussex school have been served with an eviction notice.
Protesters at St Anne's School in Lewes were told they will have to leave by 1600 BST on 25 May in a possession hearing at Brighton County Court.
The group, which calls itself St Anne's Diggers (STAND), wants to prevent the school being sold for housing.
East Sussex County Council, which secured the court order, said it had no imminent plans to sell the site.
Brighton Climate Action members moved into the school on 22 April, saying they were drawing attention to its special nature.
STAND took over when that protest ended on 1 May. It claims the occupation and its aims enjoy strong local support.
'No choice'
A council spokesman said it had started receiving complaints from the school's neighbours.
He added: "Going to court was the last option but we were left with no choice.
"We have been as patient as possible but at some point we have to protect our property on behalf of the council tax payer.
"That is as true for a local authority as it would be for a private citizen whose back garden had been invaded."
The council said the building had been boarded up before the occupation because of fears for its structural safety, including damaged asbestos that had become unstable as a result of vandalism.
It has not ruled out a future demolition or sale if market conditions improve, but the council says it has earmarked the land for community use in the short term.