Worthing betting shop robbery CCTV image released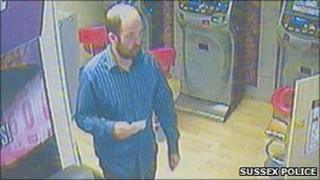 A CCTV image of a man wanted by Sussex Police has been released after £2,000 was taken from a Sussex betting shop.
The man grabbed the money from behind the till at the Ladbrokes betting shop, South Street, Worthing, at about 1330 BST on 10 May.
He was described as white, in his 30s, with short dark hair and a well trimmed beard.
He is between 5ft 6in (1.67m) and 5ft 8in (1.72m) tall and wore a blue striped shirt and dark trousers.
Det Con Duncan Peake said: "The suspect snatched the cash as it was being counted by a member of staff and ran from the shop towards the seafront."