Brighton fox bite playgroup gets new building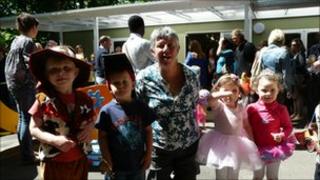 A prefab at a Brighton playgroup where a three-year-old boy was bitten on the arm by a fox has been replaced with a £150,000 purpose-built structure.
The new building, at Dorothy Stringer Playgroup in Stringer Way, replaces a second-hand prefab on the site.
The fox which bit Jake Jermy in June last year was hiding under the prefab at the playgroup, next to Dorothy Stringer High School.
The new nursery was officially opened earlier by Councillor Sue Shanks.
The building where the fox was hiding had been due for demolition within weeks of the attack on 19 June 2010.
It is believed the fox turned on Jake and bit him when he disturbed the animal during a party.
Jake was treated in hospital and completed his recovery at home.
Brighton and Hove City Council said the new building was light and airy and allowed the playgroup to increase its intake from 18 to 24 children.
The playgroup, which opened in 1973, was originally set up to provide work experience for students from the high school.
"This new light and airy building is a big step forward in improving early learning here at Dorothy Stringer," said Green Party councillor Ms Shanks.
"It great to see a playgroup set up to provide work experience is still doing this and helping to provide us with the early years workers of the future."