Rye chemical spill company fined £150,000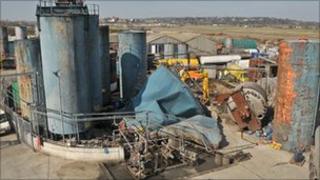 An East Sussex chemical company has been fined £150,000 after 340 tonnes of flammable chemicals were spilt when a corroded tank collapsed.
A 300m (325-yard) exclusion zone was in place for two days around Solvent Resource Management Ltd following the spill in Rye on 11 March 2009.
The company pleaded guilty at Brighton Crown Court to breaching health and safety regulations.
The Health and Safety Executive (HSE) said the tank was not properly managed.
No-one was injured in the incident, which happened at in the early hours of that morning, but roads in the area were closed and residents were told to stay indoors and to keep their windows and doors shut.
The HSE said solvent and contaminated waste water released into the area were potentially hazardous and highly flammable.
An inspector found the company had failed to properly manage the examination and inspection of the tanks on the site.
"The consequences of not operating a plant in accordance with accepted international standards can be catastrophic both to people and the environment," said HSE Insp Trevor Collis.
"It was only timing that prevented this incident being more than a significant disruption to local residents and businesses."
The company was also ordered to pay costs of £20,000.