Sussex hike for father of marine killed in Afghanistan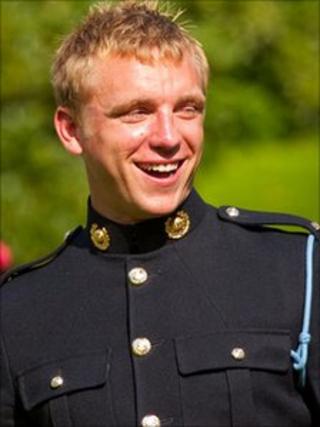 A father is to walk non-stop for 36 hours across the South Downs in memory of his Royal Marine son who was killed in Afghanistan.
Robin Hollington's 23-year-old son Richard died from injuries caused by an explosion on 20 June 2010.
Mr Hollington will be joined by his son's former troop sergeant and fellow marines who were with him when he was injured.
The 103-mile "yomp" will start in Eastbourne and finish in Winchester.
Mr Hollington, of Petersfield, in Hampshire, who was a marine himself for 20 years, said: "My personal view is that the largest part of the challenge will be in the head.
"Yes, you have to be reasonably fit, but I'm working on the basis that at no point will I have to walk more than three miles in an hour."
Help for Heroes
Marine Hollington, who was a member of 40 Commando, was caught in a blast in Helmand province, in Afghanistan.
He was flown back to England, but died from his wounds in the Queen Elizabeth Hospital in Birmingham with his parents and two brothers by his side.
He became the 300th member of UK forces to have died in Afghanistan.
Family and friends have already raised more than £92,000 since his death, with the money going towards Help for Heroes.
They hope to reach £100,000 by the anniversary of his death on 20 June.
His father added: "Richard was quiet, steely, determined and into teams and his mates.
"This yomp is about getting 24 other people to start together and finish together
"I'm looking forward to the whole thing, but I think the beer at the end most of all."