Petition calls for restored Saltdean Lido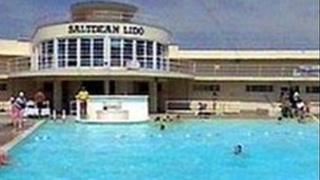 Campaigners fighting for a 1930s seaside lido to be restored have begun a petition calling on Brighton council to take urgent action.
In March, the group won a battle for the listed building status of Saltdean Lido to be upgraded, and now it wants the site returned to its former glory.
The leaseholder of the lido announced plans last year to build an apartment block on the site.
By Sunday, 83 people had signed the petition on the city council website.
'Public feeling'
The petition calls on the council to begin urgent proceedings to ensure the leaseholder maintains the building and complies with the terms of the lease this summer.
Rebecca Crook, chairwoman of the Save Saltdean Lido Campaign, said the group wanted to show the level of public feeling about restoration of the site.
She said Saltdean had one of only three remaining seaside lidos left in the country.
She added: "They are really precious and there are not many of them left around and actually now it's the only one that's Grade II* listed in the whole country, so it's a real honour to have it in the city centre.
"It really deserves recognition to be restored and preserved for future generations."
When owner Dennis Audley unveiled plans last year to build flats on the site he said the outdoor pool had lost more than £250,000 over five years due to a succession of poor summers.
AS well as the flats, Mr Audley wanted to create an all-year leisure facility for the community.
He wanted to remove the pool, but build new facilities including a library.