East Sussex rare plant shown to volunteer conservationists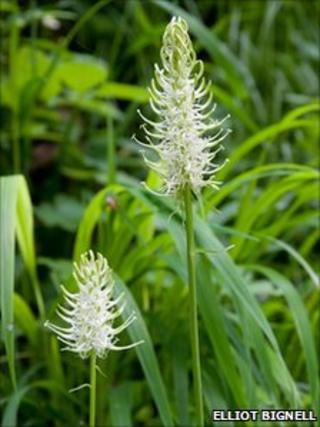 Volunteers will see the rare plant they are helping to save in flower at its native site in East Sussex for the first time later.
The spiked rampion, a wild flower, is thought to only grow in East Sussex and is one of the UK's rarest plants.
Conservation charity Plantlife has set up a project to help save the plant from extinction.
Volunteers or 'Flora Guardians' will help monitor the remaining eight sites where the spiked rampion grows.
Plantlife's species recovery officer Dominic Price said the charity's project was "timely".
"We still have a chance of improving its fortunes if we act now.
"If we had left it any later, it may have been too late, but we are optimistic that we can help boost its chances."
White Rapunzel
It was thought that the plants were growing at 13 sites but a survey carried out in 2010 showed they were present at only eight, with less than 10 plants at five of those sites.
The spiked rampion only grows in woodland and road verges in East Sussex and one possible cause for the plant's decline could be the loss of habitat through the building of new roads and houses.
The spiked rampion is a member of the bellflower family with unusual cream-coloured spikes of flowers.
It is known on the continent as white Rapunzel as it is mentioned in the fairytale as the plant which Rapunzel steals and is then locked in the tower as a result.