Brighton city centre park protesters to finish camping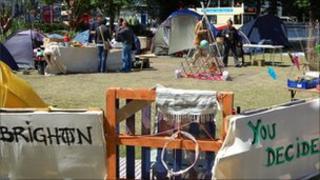 A group of protesters who have been camping in a central Brighton park for three weeks have agreed to leave.
The international protest in the Old Steine started in solidarity with similar protests in Spain.
The Green Party, who have minority control of Brighton and Hove City Council, have been criticised for appearing to support the protest.
Ben Duncan, cabinet member for communities, said he would not protect "the right to camp in a public park".
The campers object to austerity measures in Spain and support the push for democracy in the Middle East, known as "the Arab Spring".
Christopher Czechowicz, who is from the US and is one of the protesters, said the group have decided to leave on 12 June.
He said: "A lot of residents have been very accepting and the administration have been very understanding with us."
'Good protest'
Mr Duncan had previously being criticised by the Conservatives for saying the protest was a "model" of the kind the council was committed to facilitating.
However, he now believes it is the right time for the protesters to go.
"At no point have I protected the right to camp in a public park," he said.
"They've made their point with a good protest and have had widespread community support. However, we've not going to let them or anyone else camp in a park for ever."
But the leader of the Conservative opposition, Geoffrey Theobald, said the council's behaviour will lead to more protests in future.
He said: "This started off as a protest against problems in Spain, so why on earth are they coming to Brighton and Hove? It doesn't make sense.
"My fear is that we could end up in the same situation as opposite the Houses of Parliament, with people protesting about issues around the world."