Sussex students' new designs go on display in Brighton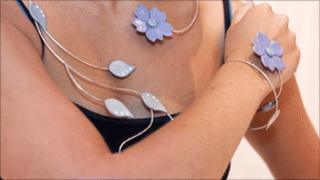 New designs by Sussex students, which are aimed at solving problems, have been put on display in Brighton.
Pain-relieving jewellery and fast-assembly stretchers for disaster zones are just some of the innovations.
The students are in their final year of a engineering degree in product design at the University of Sussex.
Student Diane McSweeney's Pulse jewellery employs heat to ease the aches and pains of conditions such as rheumatism and Raynaud's phenomenon.
Ms McSweeney suffers from Raynaud's and was inspired to design a product for fashion-conscious women rather than the usual copper bands.
Raynaud's affects the blood supply to parts of the body, usually the fingers and toes.
It can be triggered by low temperatures or anxiety.
Ms McSweeney said: "Rheumatoid arthritis and Raynaud's phenomenon can be a real problem for women and both conditions affect millions.
"Both ailments can be treated to make the conditions more bearable.
"Heat therapy for Raynaud's sufferers, for example, reduces swelling and increases blood flow to the problem areas."
Pulse points
Ms McSweeney's concept is that the jewellery makes contact with pulse points in the wrists and neck, providing relief via heat element patches built into the jewellery.
Other designs included Sam Foreman's Adapt Stretch System - a stretcher which can be dismantled so large numbers can be stored easily.
This was designed in response to recent natural disasters around the world.
The designs are on display in the Brighton Media Centre until 12 June and at the New Designers Show in London in July.